Baked buns with chicken and mushrooms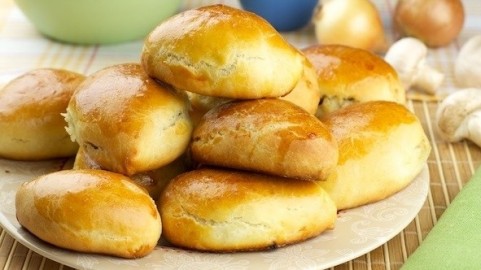 The farinaceous food is widely common in Ukrainian cuisine. The one of the most popular dishes is buns (pyrizhky). They are crescent-shaped or long-shaped stuffed pastry buns. In old times, they were the protagonist of every feast in Ukrainian house.
Buns can be baked or fried; made of yeast dough or short pastry; they can be sweet or savory. Also they can have different stuffing. For example, savory buns are filled with meat, potatoes, cabbage, salo, haricot beans, or liver. The sweet one is cooked with apples, apricots, cherries, plums, strawberries, cheese. As a rule, savory buns are fried, and the sweet buns are baked.
The buns are great appetizers, as well as a main course. The sweet buns are served as dessert.
Ingredients
Ground black pepper
2 pinchs
Mix the yeast, warm water, flour and sugar.
Stir everything thoroughly and store in a warm place for 30 mins.
Add one egg, a glass of kefir, 60 ml of vegetable oil, one teaspoon of salt and a little of sieved flour.
Stir through the remaining flour and don't stop kneading. The dough shouldn't be stiff and sticky.
Put the dough aside into the warm place for 40-60 mins. It should double in size.
Chop the mushrooms and onion.
Rinse and dice chicken fillet.
Fry the onion and mushrooms in preheated frying pan.
Add the chicken fillet in the frying pan.
Fry the stuffing for 5-10 mins until the chicken is cooked through. Season with pepper and salt.
Shape medium-sized balls of dough. Brush the working surface with vegetable oil.
Flatten each ball. Put one tablespoon of filling in the middle of the flattened ball.
Gather the dough up around the filling by pleating along the edges.
Brush the baking tray with butter. Put the buns seam down. Whip egg and brush the buns in order to give them a golden crisp.
Heat oven to 170C, and bake buns for 20-25 mins until they have a golden crisp.