Sauerkraut with Beetroot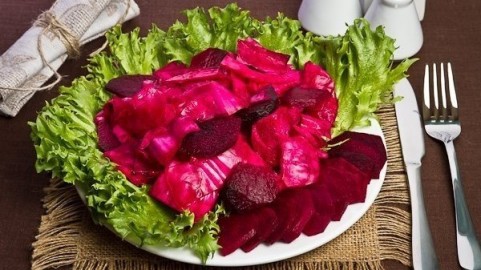 Traditionally, sauerkraut is made with cabbage and carrot, which grant the dish with light flavor and milky colour, as it doesn't have any coloring pigment. However, there is a plenty of sauerkraut recipes, including sauerkraut with beetroot, in particular. Such a combination boasts slightly exotic taste, as well as a bright scarlet colour. Moreover the sauerkraut with beetroot differs in shape. Unlike the shredded cabbage used in traditional recipe, the sauerkraut with beetroot features petal-shaped cabbage.
Wash the cabbage. Cut the cabbage in two parts, and then into chunks.
Cut the beetroot in round slices.
Combine cabbage and beetroot.
Boil the water. Combine it with black pepper, allspice, salt, sugar, and bay leaf. Simmer for 10 mins. Add the vinegar and cook for one min.
Combine the marinade with cabbage and beetroot.
Put the ingredients in the glass jar and set aside for 3 days.
Dress the salad with vegetable oil before served.