Poppy-seed roll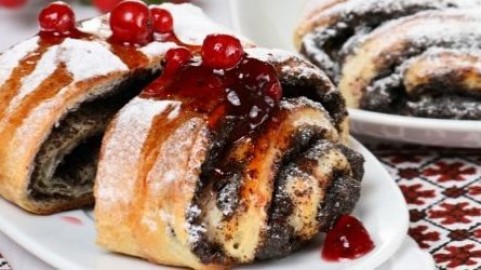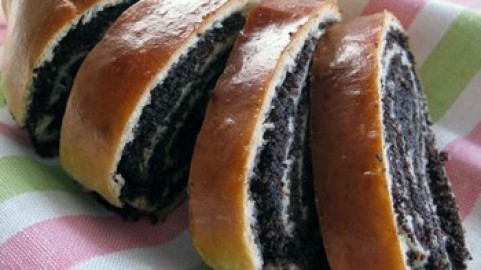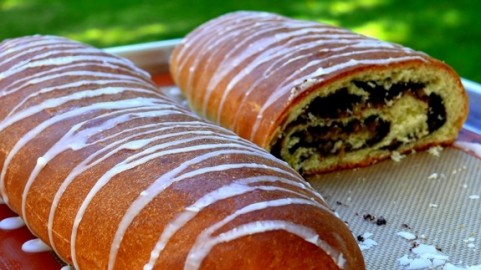 Pastry with poppy-seed stuffing is very popular in Ukrainian cuisine. The most frequent guest on Ukrainian table is poppy-seed roll. It is made of short pastry and baked in oven. This dish has an inimitable aroma and extraordinary taste.
Poppy-seed roll's traditional recipe has no other stuffing. But today, each housewife adds something special to it. Thus, poppy-seed rolls with custard, apples, dried fruits, nuts or curd originated.
There are different ways to design the roll. Traditional appearance is large closed bun. In fact, the rolls are not only rolled, but also turned inside out - in this way, poppy seeds end up everywhere, inside and outside.
Poppy-seed roll is served as a desert to tea or coffee.
Combine the 200ml of milk with a glass of flour, yeast and sugar. Stir well to avoid the clots. Put aside to a warm place for an hour.
Separate the yolks from whites. Grind the yolk with sugar. Whip the egg white until foamy. Add everything to the pastry, and mix it in the blender at low speed.
Put the pastry into bowl and stir through the remaining flour.
Put the pastry onto the flat working surface drizzled with flour; knead it well until it doesn't stick to the hands.
Put the pastry into the dry bowl, cover with fabric napkin and put in a warm place for 1.5-2 hrs.
If necessary, rinse the poppy-seeds, and then cover them with boiling water for 8-10 mins. Pour off the water, and then pour the boiling water again for 5 mins.
Pour off the water, and wring the poppy-seeds out. Combine them with coarse sugar and mince in a hand-powered grinder.
Put the poppy-seeds in the deep bowl and then add the soften butter and honey. Add some milk, and put over heat, gradually adding the remaining milk. Cook for an hour over low heat. The stuffing mustn't be liquid!
Shape the pastry in a rectangle as thin as possible.
Put the pastry onto the napkin, spread the stuffing and roll it up carefully.
Whip the egg until homogeneous.
Brush the roll with whipped egg. Put the roll on the parchment-lined baking tray and put it in oven preheated to 180C. Gradually reduce the temperature on 20C every 10 min. Bake for 30 mins.